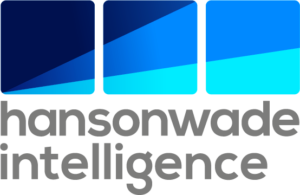 Leveraging our extensive research networks and the peerless drug data contained in Beacon, the Hanson Wade Intelligence team produce thought leading content for the life science industry.
We target innovative, emerging or high growth niches and dig deep into the scientific complexities. Our goal is to provide clarity and rich insight into the trends and direction of biopharma research efforts.
Partnering with us is an opportunity to accelerate your company's understanding of its target market segment. Whether you are looking to position yourself differently, track sentiment or refine outreach and targeting, our custom research solutions can deliver value for you.
See why you should partner with us for your Market Research projects: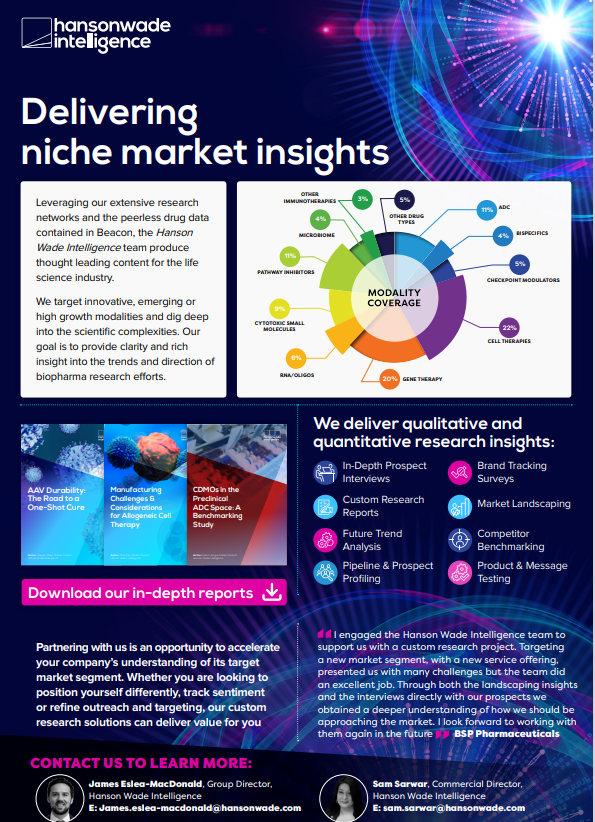 Explore some examples of our
Market Research projects: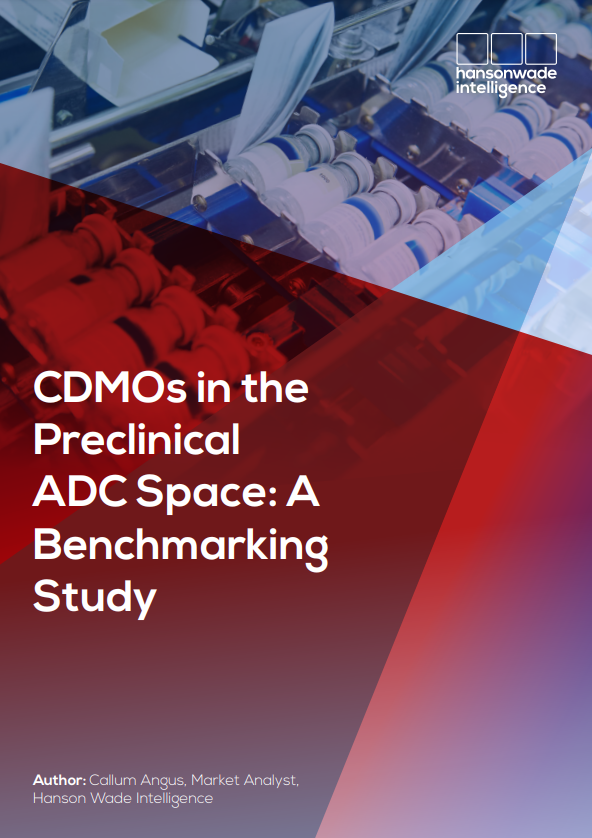 CDMO's in the Preclinical ADC Space: A Benchmarking Study
Antibody-Drug Conjugates (ADC) have progressed a long way as a modality in recent times, culminating in a flurry of new drug approvals over the past couple of years. However, despite this progress, there is little in the public domain detailing how service providers are used in this space, particularly for assets at the preclinical stage where the announcement of partnerships is rare.
At Hanson Wade Intelligence, we sought to shed light on this under-represented area. We carried out a survey of 51 preclinical ADC developers, as well as carrying out in-depth interviews to support the sentiment uncovered in the survey.
So whether you are a developer, a service provider, or an observer of this space, this report will add to your understanding and provide some well-needed clarity to the preclinical ADC space. We uncover the major players, the importance of company size and molecule toxicity, and the traits that developers consider the most important when outsourcing their preclinical ADC assets.
AAV DURABILITY: THE ROAD TO A ONE-SHOT CURE
Inconsistent long-term clinical data has highlighted the need to better understand the durability of AAV-based gene therapies.
At Hanson Wade Intelligence, our Market Research division, we assessed 121 different clinical trials across the 4 main target tissue types – liver, muscle, CNS and ocular tissues. As well as extracting and summarising specific durability data, we explored key findings across tissues, trials, routes of administration, doses and serotypes.
Through the comprehensive report that we have produced, we intend to provide gene therapy developers with valuable insights on the durability of the current generation of therapies across the disease landscape.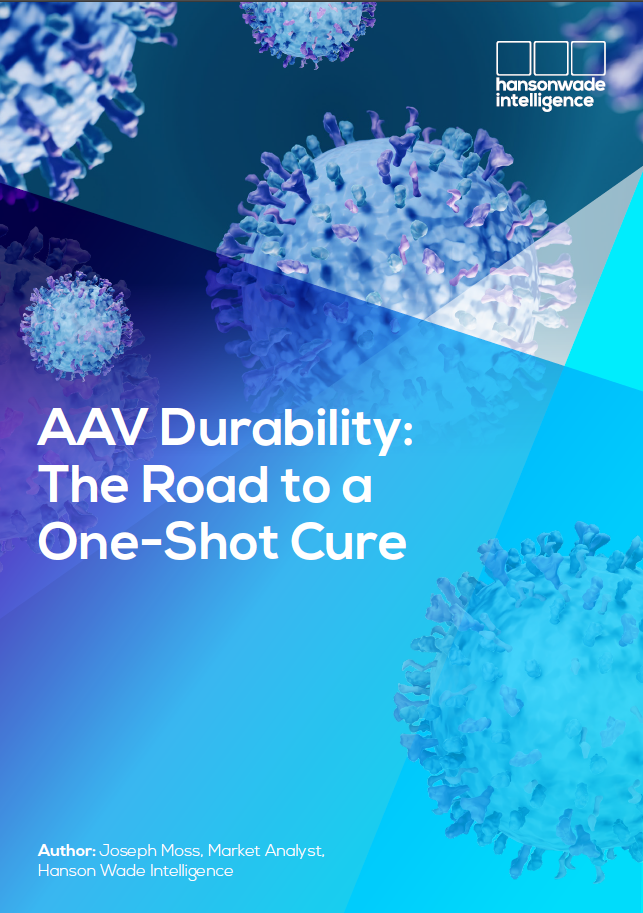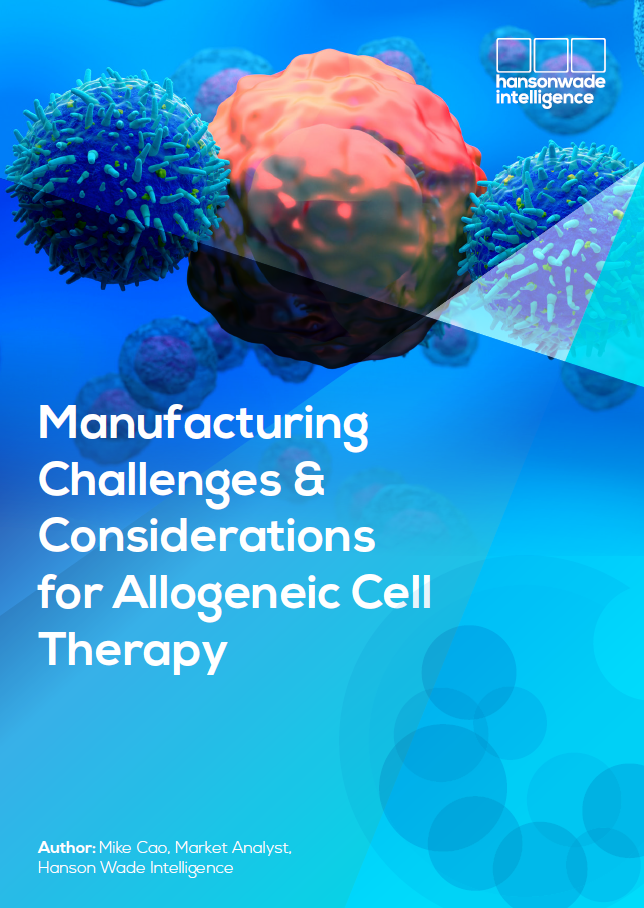 Manufacturing Challenges & Considerations for Allogeneic Cell Therapy
The allogeneic cell therapy space has many development and manufacturing bottlenecks which are further compounded by the diversity of cell types, delivery systems and gene editing technologies that are now being pursued in the clinic.
To better elucidate these challenges Hanson Wade Intelligence, our Market Research division, spoke to 15 key opinion leaders within the allogeneic cell therapy space. We summarised their views alongside quantitative insights from our Beacon Adoptive Cell database in this opinion review.
This report aims to provide cell therapy developers with valuable insights on the main allogeneic manufacturing challenges and considerations for optimisation of key stages of development.
Biopharma Deals in Targeted Protein Degradation: A new era
Are you exploring targeted protein degradation technologies? By using Hanson Wade's Beacon database and other secondary research we have curated the Targeted Protein Degradation Partnerships: A New Era report.
Download it for free to explore:
The partnerships formed in the TPD space for the period 2019-2021
The common disease areas and degraders found in the TPD deals
The financial terms of TPD agreements
The most active biopharmaceutical companies in TPD partnering
Our hypotheses about current and future trends in TPD deal-making
The report will enable you to form a comprehensive picture of the TPD industry by providing a deep dive into partnerships in the space. Competitively positioning yourself when searching for partners.