Cell Therapy Conferences
Our mission is to supercharge durable, safe, and cost-effective cell therapies for patients. We focus on helping overcome the discovery, translational, clinical, and commercial hurdles to realize cell therapies for patients at scale.
Assembling experts and world-class content to address the most significant challenges and opportunities, we provide every cell therapy developer, for every cell type, the content and connections needed to progress through the clinic and to patients in need.
0
Sponsors
0
Speakers
0
Attendees
Developing Safe & Effective Cell Therapies to Engineer a Disease-Free World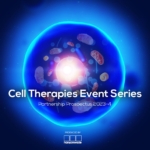 Cell Therapy Sponsorship Prospectus
The Cell Therapy Series promises to deliver a dedicated forum for every niche within the cell therapy industry; uniting those working across the full drug development landscape, as well as providing the space for communities prioritizing a particular cell type or technology advancement to come together. As we continue to follow the trends across the field, we hope to leave no cell therapy stone unturned, and no member of the team unserved.
Sponsorship Prospectus - Gated Download Form Cell Therapy
"The CAR-TCR Summit is one of the biggest T-cell therapy conferences allowing attendees to obtain not only the latest updated information in this field but connect experts/partners during the meetings. Speed for technology improvements of this field is ultra-fast and sometimes it is difficult to catch up with all the things happening in this field so participating in this meeting is meaningful for people who are working in the field."
Associate Director, Takeda
"Probably the best run show we have participated in this year. The audience was the who's who of the CAR-TCR world. The support staff was around every hour or so, checking to ensure everything was OK. An expensive investment, but well worth it when you have the industry's KOLs in the house. You need to make sure the event is run as if it were your own house, and that is what the Hanson Wade team did this time. It couldn't have been run any better."
President, PHC Corporation of North America
"The entire Hanson Wade team and the organizing committee maximized the ability for stakeholders in the cell therapy space to be educated and updated on the latest developments, to easily network and meet people in a pleasant environment, and in a very well-organized, efficient, and well-run meeting."
Chief Executive Officer, iCell Gene Therapeutics
"Cross-sectional look at the cell therapy industry as a whole."
Director, Analytical Development, Century Therapeutics
Cell Therapy Conferences – Product Team
CONTACT US
Get in touch
We speak to hundreds of biopharmaceutical experts from industry and academia every day. We would love for you to be one of them. Contact us to discover how our events can accelerate your drug development.
Standard Form - Cell Therapy
"*" indicates required fields